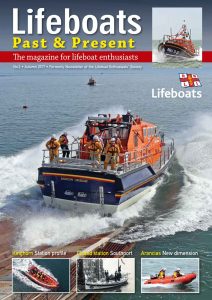 LBES are very pleased to announce that they've just published in full colour, issue number 2 (Autumn 2017) Edition of their magazine Lifeboats Past and Present.
This is a full 52 pages packed with lifeboat focused articles and features, including;
The naming ceremonies of four new 13m Shannon class lifeboats at Bridlington, Llandudno, Selsey and Poole (Relief) are celebrated.
New ILB naming ceremonies including the new Atlantic 85 at Penlee and (x2 boats) at Happisburgh are celebrated!
Spectacular images of the RNLI in Co. Antrim featuring the Red Bay and Larne crews on exercise.
Lifeboat Station Focus looks at Kinghorn as it celebrates 50 years on the Forth.
The popular Ex Lifeboat Roundup features strongly with a plethora of current news on a multitude of historic lifeboats.
Modelling Matters brings the exciting model lifeboat action at Haydock Park into colourful focus.
The Arancia IRBs now working alongside lifeboats are discussed in detail.
Steve Landells details the history and restoration of the veteran lifeboat Henry Frederick Swan currently taking place in South Shields, the spiritual home of lifeboat design.
Closed Station featured in this edition is Southport and the pulling lifeboats that were deployed there.
Howard Richings in Slipping Into The Future provides a fascinating article on the slipway launching of the Tamar class lifeboats. The technological challenges associated with this spectacular launching method are discussed as the RNLI takes it forward into the 21 Century.
A full report of the very well attended autumn Lifeboat Enthusiasts Meeting that was held in Chatham Historic Dockyard on October 28th 2017.
Lifeboat listings keeps us up to date with all the latest lifeboat movements throughout the RNLI.
High quality photographs are included throughout the magazine, supporting many of the written articles and also of course, imparting a rich visual narrative of their own.
To ensure your copy of this excellent magazine you will need to be a member of the LBES, if you're not then full joining details are listed the JOIN US section of this website.