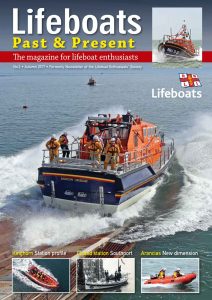 Lifeboat Enthusiasts (and guests) came to Chatham for lifeboats, presentation, fun and even more lifeboats . . .
The Lifeboat Enthusiasts' Autumn Meeting was held on Saturday 28th October 2017 from 14:00 at the Commissioners House within the Historic Dockyard, Chatham, ME4 4TE
The Speaker was Callum Ives (Hon Sec LBES) and his subject (with supporting digital imagery) was: "Solent Class Survivor – The Story of 48-005". He discussed the rescue and renovation of ON1008, additionally touching briefly on other privately owned 48'6" Oakley and Solent Class Lifeboats in the UK historic fleet. The talk was very well received with particularly enthusiastic audience interaction at the closing Q&A session.
Peter Woolhouse the LBES Chairman did a splendid job in organising the event, a healthy contingent of RNLI LBES Members and their invited guests were in attendance. There was a lively atmosphere and friends (old and new) were able to catch up with each other.
Peter_Woolhouse@rnli.org.uk
The usual sale of lifeboat memorabilia took place during the day. This aspect was efficiently run by Adrian and Sue Clutterbuck. Many thanks to them and all individuals/organisations who brought lifeboat related items for sale.
It was also a great opportunity to enjoy the RNLI's largest collection of heritage lifeboats. HLC Volunteers were in attendance on the day to answer questions, and we were all able to see lifeboat history at first hand.
Many thanks to all who helped organise and attended this very enjoyable event, hope to see you all at the AGM and Midlands Meeting in May 2018.