Nowadays better known as CEL (Claytons Engineering Ltd.), the company that produces nearly 50% of the launch and recovery equipment for the RNLI, was originally founded in 1973 by Mike Bigland as Bigland (Preparations)Ltd., a design, development and prototype engineering company in the village of Bucknell, Shropshire, after he relocated there from Halesowen in the West Midlands.
During 1974 Mike produced a prototype 'wading vehicle' for Barrie McGill (an RNLI crew member) for his boatyard in Abersoch.
A second machine was developed later that year to explore the potential in the Marine Industry. Barrie acquired this machine too and went on to run a very successful business. The machine was demonstrated to the RNLI early in 1975; but it was not until Selwyn Ewart [a former RNLI District Engineer] who became Superintendent Engineer (based in Poole) realised the potential. This N0.2 prototype has been acquired by the RNLI after a 44 year working life.
In 1975 Selwyn and Mike drew up a specification suitable for RNLI requirements; this machine was based on a County 4WD tractor.
The first TALUS-MB764 was born and undertook trials at Blackpool and other stations later that year. Designated TW2 it went into service at Beaumaris in February 1976. [with TV's Blue Peter and John Noakes present] Later that year Bigland (Preparations) Ltd., moved to the current 7 acre site at Knighton and went on to design, develop and manufacture:-
TALUS-MBC Crawlers based on the Case1150 skid unit
Updated DODO Trolleys
TALUS-MBH Crawlers a unique/bespoke design
Carriages for the FCB-Mersey class lifeboat
TALUS MB-4H Wheeled pivot steer tractors a unique/bespoke design
Boathouse Slipway Winches
Anchor Trolleys.
Other ancillary and support equipment.
Other customers during this period included:- The Ministry of Defence, Mannesman Rexroth and Rolls Royce (Aero Div) amongst others.
Mike wished to retire and sold his company to Clayton Engineering in November 1997. All the existing team were retained and the company grew to its present capability under the expert direction of Dave White (Managing Director) and Brian Hughes (Works Director). Both Dave and Brian engaged with other staff to undertake a "management buyout" in April 2003.  The Company (CEL) undertook extensive projects throughout the UK.
Late in 2018 after the owners decided to retire, subsequently the RNLI has acquired (CEL) and will continue production of the Talus launch and recovery systems at the existing Knighton factory.
Original prototype Talus No-1 under test at Abersoch (image copyright Mike Bigland)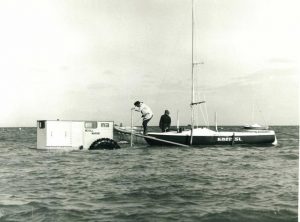 Original  prototype Talus No-1 under test at Abersoch (image copyright Mike Bigland)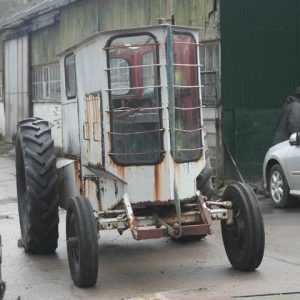 Talus No-2 prototype at Bucknell workshop, rediscovered after  44 years (image copyright Mike Bigland)
Talus No-2 prototype at Bucknell workshop with her builders, rediscovered after  44 years, L – R; Bob Neville, Mike Bigland and Ian Davies. Ian was Mike's first apprentice and still works at CEL today.(image copyright Mike Bigland)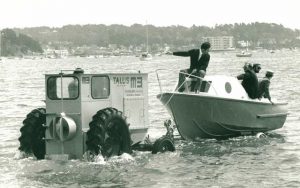 No-2 prototype Talus at Poole Boat Show 1975, when fitted with a Kort nozzle was fully amphibious!(image copyright Mike Bigland)