Our gallery of Lifeboat related photographs, if you have any interesting Lifeboat and associated focused photographs to feature in the gallery, please send to Cal (Hon Sec Lifeboat Enthusiasts), see Contact Us section, do include the subject, date (if possible) and photographer's name. (Max image size 2 meg). Please note that this section is currently being developed as we gather media and will be reformatted soon, in the meantime we'll add some selected photos as a taster of what's to come. Your patience is appreciated!
The 1949 built 46'9″ Watson Class ON866 Charles Henry Ashley (Porthdinllaen 1949 – 79, Relief 1979 – 86). Photograph 2016 on the river Seine near Paris, France where is now owned and maintained in excellent condition by Carl Revilliod. (photo Carl Revilliod)
Vic Crossthwaite, Staff Coxswain Ian Cameron Ives, Jack Hoskins and David Henderson under passage Thorne to Littlehampton in 1970 on the 1954 built Liverpool Class 35′ 6″ ON927 Grace Darling (North Sunderland 1954 to 67, Reserve 1967 – 71, Youghal 1971 – 23rd May 1984), now on display at the RNLI Historic Lifeboat Collection at Chatham. She was the second last Liverpool in service with the RNLI, ON882 B.H.M.H. at Clogher Head was the last, coming off service finally on 26th August 1984. (photo Callum Ives)
The 1991 built 12m Mersey Class, ON1176 The Four Boys (Sennen Cove 1991 – 98, Relief 1998 – 99, Amble 1999 – ). (photo Nicholas Leach)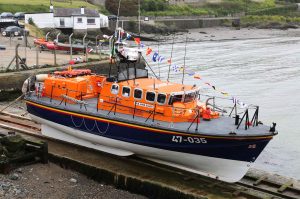 1989 built 47′ Tyne Class, ON1153, Annie Blaker on her slipway at Wicklow in 2017 (photo Nicholas Leach).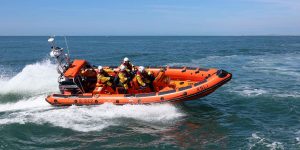 Brighton B-852 on exercise (photo Nicholas Leach)
Workington Shannon Class 13-19 (photo Nicholas Leach)
Relief Shannon 13-21 naming ceremony RNLI Poole September 2017 (photo Nicholas Leach)
Newhaven Severn Class 17-21 (photo Nicholas Leach)
Southend B class (photo Nicholas Leach)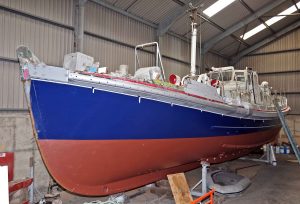 1959 built ON949 52′ Mk2 Barnett Class – twin Gardner 6LW engined, Ethel Mary (Ballycotton 1959 – 85, Relief 1985 – 87, Baltimore 1987- 88), under restoration at Coleraine Harbour, August 2017, (photo Nicholas Leach)
ON950, the 1959 built 47′ Watson Class, "Kathleen Mary", one of 5 converted to "Solent style" inherrent self righting superstructure configuration in the 1970's. (Stationed at Newhaven 1959 – 77, Relief 1977 – 79, Porthdinllaen 1979 – 87, Appledore 1988). Pictured in 2017 at Ellesmere Port. (photo Nicholas Leach)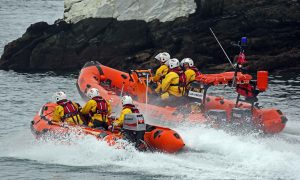 Looe Lifeboats B-793 and D-741 under exercise in 2017 (photo Nicholas Leach)
ON885, the 1950 built 46'9″ Watson Class, "Sir Samuel Kelly", (Donaghadee 1950 – 76), photographed under preservation at Donaghadee in 2008 by Neill Rush.