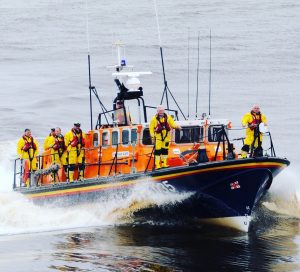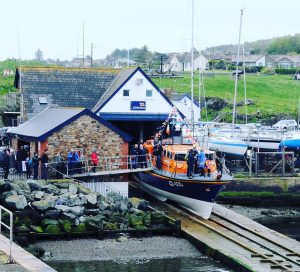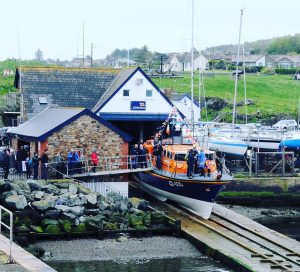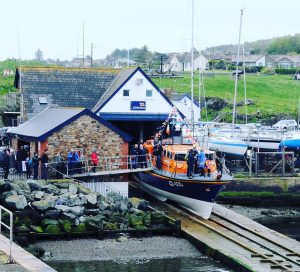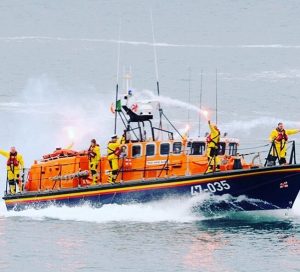 There were mixed emotions on display at Wicklow on Sunday 28th April 2019 when a ceremony of celebration was held to mark the retirement of the last magnificent Tyne Class lifeboat in RNLI service.  After some 30 years on station, she was also, coincidentally, the last steel hulled RNLI lifeboat in service too, after an unbroken 55 year run from 44-001 coming into service in 1964, historic times indeed!
Wicklow's Tyne was ON1153, 47-035, Annie Blaker. She began her service at Wicklow RNLI in 1989 and along with ON1147, 47-032, Sir William Hillary who served at Douglas 1988 to 2018, is one of the two Tyne Class boats to reach a full 30 years on station.
47-035 will now sail to Portishead Marina for decommissioning from the RNLI fleet, the end of a wonderful chapter in the RNLI's ongoing history.
The first Tyne was ON1074, 47-001, City of London, serving Selsey from 1983 – 2006 and the last built was ON1158, 47-040, Hermione Lady Colwyn that served at Shoreham Harbour from 1990 to 2010). Since retiring from RNLI Service 8 were sold to China and are serving as lifeboats, 5 are serving other lifeboat services in places as diverse as Canada and Sri Lanka, 23 are in private/business use as workboats, pilot boats, fast ferries and pleasure craft in places such as Portishead in England, California in the USA, a number in Scotland, Wales, Ireland and even one in Togo (West Africa).
Three are now allocated for Museums; ON1131, 47-023 City of Sheffield at the National Emergency Services Museum, Sheffield, ON1132, 47-020 Spirit of Lowestoft to the RNLI Museum Chatham and ON1146, 47-031 Voluntary Worker at Glasson Dock).
All the Tynes have an excemplary service record and of course their fabulous Detroit Diesel engine sound will be much missed!
Thanks to the excellent Lifeboat Enthusiasts Handbook 2019 for reference material.
(photos c/o Phil Griffiths)